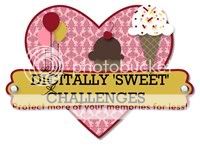 Hi everyone and welcome to the next challenge at
Digitally "Sweet" Challenges
. I am so excited as I am going to the NEC tomorrow and meeting up with my bestest ever crafting buddy Dawn AKA Crafty Kitten - it has become an annual event and the highlight of my crafting year.
Anyway enough of that and on to our challenge this week
ADD SOME DIGITAL METAL - BRADS, CHARMS ETC
We are sponsored this week by a new company called
Cedar Chest Designs
Cedar Chest Designs offers quality products, bulk discounts, instant downloads
and teacher benefits on digital stamps, digital scrpabooking images and a
variety of other digital craft supplies from over a dozen unique artists.
Winners will receive a free $10.00 Gift Certificate to purchase anything
they would like from the online store.
Here is what I made using Craft Artist Professional v2
The papers are called
Fall Pumpkins Pattern
, and I have used the
Haunted House
image.
Please check out my team mates inspiration - their links are on my left sidebar.
I would also like to enter the following challenges
Dis Digi Design Challenge - Anything Halloween,
Anything Goes Challenge - Anything Goes,
Bearly Mine Challenge - Anything Goes,
Papertake Weekly - Anything Goes,
Crafty Catz Challenge - Anything Goes,
Crafting For All Seasons - Falling Leaves,
My Mum's Craft shop Challenge - Sentiments,
Paper Crafting Journey - Anything Goes,
Do You Stack Up - Leaves and Trees,
Tuesday Thrwodown - Autumn Leaves, and,
One Stitch At a Time - Anything Goes.
Hugs