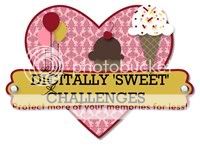 Hi everyone, and welcome to the next challenge at
Digitally "Sweet" Challenges
. Firstly, I must thank those of you who played in our last challenge.
For the month of February our challenges have been chosen by my team mate Ann - unfortunately, she has had to leave the team but she has chosen some great challenges for you.
The first one is.............
ANYTHING BUT A SCRAPBOOK LAYOUT OR CARD
.................so calendars, tags, cupcake wrappers, bags, boxes could be your choice.
We are sponsored this week by
Limited Runs Digital Stamps
and some of the team have used their images so don't forget to check them out - their inks are on my left sidebar.
I have made a photyo book using Craft Artist Professional v2 so it is a bit photo heavy!!!
and
and
and last 2 pages.
I have used another Daisy Trail kit called
Cats and Dogs
. As you can see I have used our cats as the main focus of the book. They are 8 months old now and it is so lovely when they are both sitting on my lap purring away like trains. Alex, who is in one of the photos has a much better way withthem than Emily - she just chases them, pulls their tails and picks them up (the wrong way!!) - no wonder she occasionally gets scratched!
I would like to enter this project in the following challenges:-
My Time To Craft
- Things with Wings,
Paper Playtime
- Use some borown,
Party time Tuesdays
- Anything Goes,
Simon Says Stamp Challenges
- Anything Goes,
Flutterby Wednesdays
Anything Goes with a butterfly, fairy or angel,
Digistamps 4 Joy
- Anything Goes,
Crafty Creations Challenge
- Anything But A Card,
Crafting By Designs
- Animal Antics, and,
Crafty Ribbons Challenge
- Anything Goes with a ribbon.
Hugs