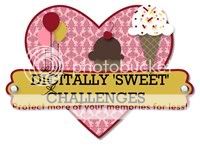 Hi everyone, and welcome to the next challenge at
Digitally "Sweet" Challenges
. Firstly, I must thank those of you who played in our last challenge.
Our challenge this week is to create a project with ........
Summer Time Colours
....I decided to make a birthday card. I have digitally painted the image in Craft Artist Professional V2 - a slow process but I used a soft brush and enlarged the image so that I could colour within the lines!!!!!
I am looking forward to your creations which must have something digital on them - remember?
I would also like to enter the following challenges:-
Hugs