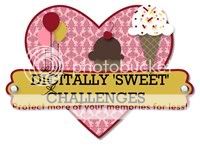 Hi everyone and welcome to the next challenge at
Digitally "Sweet" Challenges
but before I tell you what it is I would like to thank all those of you who played along with our last challenge. I can't believe how fast the time is going.
Anyhow our challenge this week is.........
MAKE A CARD USING A DIGITAL IMAGE
I would also like to remind everyone that this is a totally digital challenge - 100%.
We also are proud to announce that we have a sponsor for this challenge
Floppy Latte
. The team were allowed to choose an image to work with, mine was......
Butterfly Solace
.
Here is my inspiration for you using Craft Artist Professional 2.
I have used the free digikit with CAP 2 called DayDream.
Please check out my lovely team mates for some more inspiration - their links are on my left sidebar.
I would also like to enter the following challenges:-
Have fun everyone
Hugs