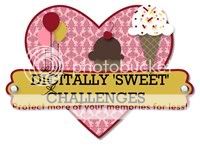 Hi everyone and welcome to the next challenge at
Digitally "Sweet" Challenges
but before I tell you what it is I would like to thank all those of you who played along with our last challenge. Oh dear Autumn is well and truly upon us and ever since we had solar panels fitted ....................NO SUN!!!!
So the purpose of this post - our challenge this week is.........
"PAW"SITIVELY DIGITAL
.........the perfect opportunity to showcase your furry friends.
Here is my layout
As you know (if you follow me closely) we have two new additions to our family and yes they are exceptionally playful.
I must apologise as it was done in a bit of a rush. This week has been a tad hectic to say the least - not only work for once. I have had to adjust a Victorian costume for my eldest daughter which took me three evenings - I had bought one online to save time LOL!! Alex had chosen the one she wanted but when it arrived she decided she wanted sleeves. So off I go to Trago to source some material - can't do anything until she OK's my choice and I can measure her arms. Now I cannot make clothes to save my life so I probably didn't make the sleeves in the best way possible but they worked and lasted a whole day of school and through to the Halloween Disco afterwards! As I am now the Treasurer of the PTFA I was at the Disco from 5pm until 9pm hence the rushed project this week.
I look forward to seeing your furry projects and don't forget to check out my team mates work for some more inspiration - their links are in my left sidebar.
Here are the challenges I am entering......
Southern Girls Challenge
- Animal Crackers,
Fab 'n' Funky Challenge
- Animals,
Pennys Crafting Challenge
- Ribbon and/or buttons,
Challenges 4 Everybody
- Anything Goes,
One Stitch At A Time
- Use a digi(if this doesn't apply please remove my entry),
Quirky Crafts Challenge
- Anything But A Card,
Fussy and Fancy Friday Challenge
- Anything Goes,
The Crafty Pad
- Use and Animal, and,
One Stop Craft Challenge
- Anything Goes.
Have fun everyone
Hugs