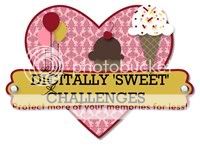 Hi everyone, and welcome to the next challenge at
Digitally "Sweet" Challenges
. Firstly, I must thank those of you who played in our last challenge.
OK, I know I'm late but I have had an emotional day because Alex, my number one dragonlette, has gone away for the weekend - her school trip. She hasn't gone too far away but it will be her first time away from home. I just hope she has a great time, and at least the weather is OK at the moment.
Now to business. Our challenge this week is to
MAKE IT MASCULINE.
We are being sponsored by
Digi Darla
and here is my layout using
XYZ Plane
.....
I coloured the image in using water colour craypons and then scanned the image to incorporate it in my layout using Craft Artist Professional V2.
Unfortunately, my youngest daughter, Emily, never met her Grandfather but it was fun showing her the type of planes he used to fly. The girls even had the chance to sit in one of them.
I love how these places are so interactive, definately makes it more interesting for the children.
Anyway, I would like to enter my layout in the following challenges:-
Hugs and have fun