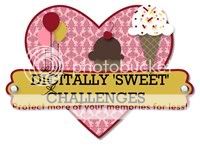 Hi everyone, and welcome to the next challenge at
Digitally "Sweet" Challenges
. Firstly, I must thank those of you who played in our last challenge.
Our challenge this week is to take inspiration from this image from Pinterest............
I have tried to incorporate the colours and the jars.............
Now before I go any further you need to know that our entry rules have changed...
Hi everyone!! We have been doing some soul searching here at DSC and we've decided to open our challenge up a little more to the addition of digital images. Denise and I started this challenge in hopes of keeping it 100% digital, but we've come to the realization that some of you just aren't ready for that yet, but are interested in learning more about it. So, with that being said, we are excited to announce that we are going to change things up a little! You can now enter our challenge with a digital image on a traditional layout, card or project! BUT, there is a little extra reward for those doing 100% digital:
ALL entries now qualify for TOP 3 and giveaways
100% digital will get TWO entries in the giveaways
So we're still encouraging you to be as digital as possible, but we want to recognize all of you who enter our challenge. For some of you that are just starting to play with digital images, we want to recognize you to! We'll be looking for tutorials that we can post for you to learn a little more about the digital world and maybe, in time, you'll jump in with both feet and give it a try! We're always here to help!!!!!!!
So please help our challenge site to grow.
I would like to enter the following challenges:-
Have fun everyone.