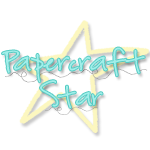 Just letting you all know about this fab challenge site -
Papercraft Star
- where you the followers vote for your favourite entry to the current challenge. I love this idea and have become a follower already.
They currently have a follower drive where you can potentially win a $25 gift certificate - they have reached their first goal already but if they reach 500 followers there will be another giveaway.
So what are you waiting for - oh and please say I sent you because then I get more entries!!! but you can do the same thing too.
Good Luck everyone.