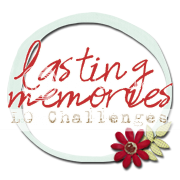 Happy easter Sunday everyone, I hope the weather is as good where you are. We are having a bit of a heat wave in South Devon - perfect timing for once as the whole of the Easter holidays have been lovely. Anyway it is with great sadness that I have to say this is my last DT post for
"Lasting Memories"
Layout Challenges. Karen gave me a wonderful opportunity and I have had lots of fun creating my digital layouts and the occasional paper one. A big thank you to everyone on the team - they are wonderful girls and I will continue to follow them and hopefully play along from time to time.
So onto our sketch for this week..........
....................which I have flipped - here..............
On our recent visit to the New Forest (sorry I didn't pop in
Lyn
- didn't realise I could!!!) we went to the National Motor Museum at Beaulieu. We spent the whole day - no not looking at cars but I had to keep DH happy!!! - there was so much to do so the children were happy. They asked me to take this picture of them with the car Mr Bean used in his film.
So please check out my teammates creations for some more fabulous inspiration - their links are on my left sidebar. Don't forget to play along and perhaps try out for a Design Team position.
Hugs