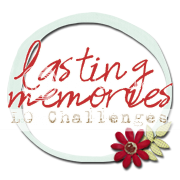 My the weeks are flying by, January is nearly over! So it is Sunday and time for another
"Lasting Memories" Layout Challenge
. Before I tell you what it is I would like to thank those who took part with our Stamp Away challenge, we had some fantastic entries - pop over to the
"Lasting Memories" blog
to find out who made the top three. This week we have a sketch for you ...........................
.....................and I flipped it over to produce this.......................
As usual I have used Digital Scrapbook Artist to make my layout. The subject is our cat, Poodle, who is a cheeky little thing. She is 15 but acts a lot younger and definately likes to eye up the birds!! Our neighbour cut down his tree in the summer and Poodle has used the stump to get just that little bit closer to our feathered friends. Needless to say none landed as she was rather obvious!!!
I look forward to seeing what you make of the sketch and please check out my team mates for some more inspiration, their links are on my left sidebar.
Just a few challenges to enter:-
Everybody Art
- My favourite things - cat and digital scrapbooking (to name a couple).
See you soon. Hugs.