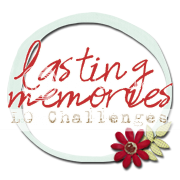 Happy Sunday to you all and hope you are all well. A week has passed and we have another great challenge for you at
"Lasting Memories" Layout Challenges
.
We would like you to Stamp Away - use your favourite stamp on your layout.
Now as you know I am a digital scrapper so I have two layouts to show you using my favourite range of stamps - Magnolia. I have used the Sleeping Baby Tilda stamp - thank you Dawn for sending it to me.
This first one is the digital layout with a photo image of the stamp, I had coloured and glittered, on the layout.
This next one ...................
............. is where I printed the layout and then stuck the image on. Here is a closeup of the image itself, coloured with watercolours and glittered.
I am also loving the process of sorting through all my digital photos. It is bringing back so many memories of my two girls when they were babies. I love these because I managed to get similar poses but I think you can tell by the expressions that one is slightly older and stronger and giggling!!!!
Please check out my teammates for some more inspiration - their links are on my left sidebar.
I have just a few challenges to enter:-
Totally Tilda
- Baby Baby (using certain baby images),
Flutterby Wednesday
- Anything Goes,
Wee memories
- Free your creativity,
Creative Belli Challenge
- Things with P (mine is pink and pretty),
Do You Stack Up
- Pink,
Cute Card Thursday
- Your choice os a 1,2,3 recipe (mine is 1 Ribbon, 2 Tags and 3 Babies), and,
Totally Papercrafts
- Hearts.
I look forward to seeing what you come up with.
Hugs