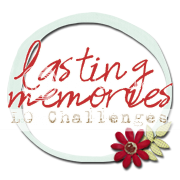 This weeks challenge is a fun one. We thought with Valentine's Day (literally) around the corner, we'd love to see RED, WHITE and/or PINK on those layouts! Feel free to use other colors as well, but we need to see these 3 colors. We also have ANOTHER surprise for you this week!! As you check out the DT blogs for inspiration, you're going to find some yummy blog candy along the way!! You just never know what you'll find, so be sure to visit each DT member, leave a comment, then come back and play along with us! You have to join us in order to be eligible to win. It's as easy as that!! Enter as many times as you like. Winners will be announced next Sunday with our challenge! Remember, to be eligible to win any of the prizes, you just have to link your entry below by Saturday, Feb 19 @ 9pm EST!
Here is my layout...........
Yes, that's where I got married!!!! I am not one for being the centre of attention and I didn't have anyone to give me away so we went for the combined wedding and honeymoon thing. My Mum did come - don't worry she was at a different hotel!!!! Again I haven't looked at these pictures for a couple of years so it was good to get them out and show the girls where we got married.
Now on to my candy which is a Button Box from My Mind's Eye
All you have to do is play along and don't forget to leave me a comment to be in with the chance to win.
Please check out my team mates for some more inspiration and they may have some candy too - their links are in my left sidebar. I look forward to seeing your creations.
I am entering this weeks layout in the following challenges