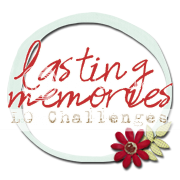 So sorry I'm a bit late today, didn't manage to schedule this post last night and only just finished the Sunday morning rituals!!!!!
Anyhow, it's Sunday so that means a new challenge at 
"Lasting Memories"
and that is
YOU'RE THE BOSS
........so that means show us your own scrapping style.
Also we have another fantastic sponsor -
Tiffany Doodles
- and guess what?
We have THREE prizes to give away this week!
1.FIRST PRIZE = 5 digi's
2.SECOND PRIZE = 3 digi's
3.THIRD PRIZE = 2 digi's
Tiffany let the team choose a digi to add to their layouts - mine was
Mushroom in grass
.
As you can see I used the image twice and flipped it at the bottom of my page. It has been coloured with Promarkers and added to my digital layout.
As I have said in my journaling I love taking pictures of mushrooms - not sure why? I suppose it is anything in nature because I have loads of birds, insects and other animals in my photo arsenal!!!!
Please check out my team mates for some more fantastic inspiration - their links are on my left sidebar.
Hugs to you all