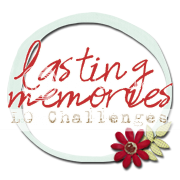 It's Sunday so it must be the next challenge at
"Lasting Memories"
Layout Challenge. Firstly, I would like to thank those of you who played in our recipe challenge check out the
"Lasting Memories" blog
to see who won.
This week we have a sketch for you to follow...................
.................and here is my interpretation............
(Edited to say that the three shapes at the bottom are supposed to be squirrel shapes!!!)
As you can see I have flipped it and it is completely digital. The picture was taken out of my front door looking into my next door neighbours garden!!!
Please check out my team mates for some more fantastic inspiration - their links are on my left sidebar. I look forward to seeing what you come up with.