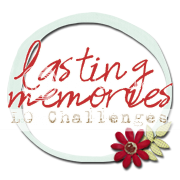 Another week has past and we are now on to our 30th Challenge at
Lasting Memories
and this week we have a recipe for you.
Now the regular visitors to my blog will know that I am a digital scrapper so I have a little surprise for you this time because I have done a "proper" page today.
There will be no surprise that it features my two little dragonlettes and I have even managed to find a use for the shells they keep bringing home EVERY time we go to the beach!!!!
The green paper is from a Debbi Moore CD Rom and I have had the butterfly vellum for at least 5 years. The two brads were silver until I set too with a green Promarker! The die cut sandcastle was a freebie from a Scrapbooking magazine I bought some time ago. The lace is from a local haberdashery department and the glittery circles in the corner are from a kids pack of foam shapes! The title was done on my digital scrapbooking programme, printed and then stuck on the layout. So there you have it, although I have done a normal page before I have definately spent more time and effort over this one and I suspect Karen was beginning to wonder if I was going to send her mine for the challenge post!!! - Hope you like it Karen.
Please check out my fellow team mates for some more fabulous inspiration - their links are on my left sidebar.
I also have a few challenges to enter:-
Have a great Sunday everyone, hugs