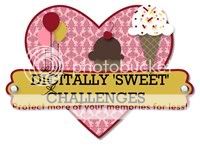 Hi everyone and welcome to the second challenge at
Digitally "Sweet" Challenges
but before I tell you what it is I would like to thank all those of you who played along with our first challenge.
I would also like to announce the winner of my comment candy........
Congratulations go to ....
Mags
Please contact me with your snail mail addy and I can get your winnings in the post.
OK on to our next challenge which is ....
ANYTHING GOES WITH FLOWERS
Here is my inspiration for you............
I have used Serif Craft Artist and a Daisy trail digikit called
Moonlight Forest
. I used one of the blend modes on a photo of my yellow rose and put it on the background which is from the Polka Doodles Studio 12 CD Rom called
Picknix Collection 1
.
I would like to enter this in the following challenges:-
Challenges 4 Everybody
- Anything Goes,
Delightful Challenges
- Anything But a Card,
Sisterhood of Crafters
- No stamps allowed,
Simply Create
- Anything Goes Linky Party,
Crafty Cardmakers Challenge
- Winged Things, and,
Kaboodle Doodles Challenge
- Flowers.
Hope you have fun