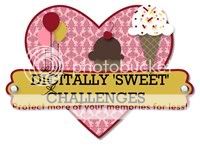 Hi everyone and welcome to the third challenge at
Digitally "Sweet" Challenges
but before I tell you what it is I would like to thank all those of you who played along with our flowers challenge.
I would also like to remind everyone that this is a totally digital challenge - 100% so unfortunately we cannot consider entries with just a digital image for example.
Now without further ado our next challenge is a layout
Now this has been adapted from one of the layouts on a Daisytrail kit called
Modern Lace
.
Here is my interpretation.........
I have used Craft Artist Professional 1 to make my layout and used elements from the following Daisytrail kits
Enchanted (Letters)
Cakeshop
(Background)
Birds
(Lacey birds)
Cupid
(Ribbon and gem swirls)
Butterfly Elegance
(Butterfly)
Family Tree
(Heart)
Cakeshop
(Frame plus general flowers brush).
Please check out my team mates for some more fabulous inspiration - their links are in my left sidebar.
Have fun everyone