OK guys I'm back and would just like to say a BIG THANK YOU to everyone who left me messages regarding the loss of a close family member. It really helped as did the funeral on Tuesday. I have been to far too many funerals but this is the first one where I have felt it has helped me through the grieving process. At the wake afterwards the family were able to talk about our memories and have lots of comforting hugs.
So although my mojo has not completely returned I feel ready for a new beginning of sorts. Some time ago I used to be a member of
"Lasting Memories" Scrapbook Challenge
, since I left I have kept in contact with the owner
Karen
and another member
Denise
. Anyway a while ago Karen asked me if I would be interested in joining her new venture with Denise -
Digitally "Sweet" Challenges
.
Needless to say I agreed and the rest as they say is history. I wasn't sure if I would manage to start right at the beginning but thankfully I have made it.
So without further ado I would like you all to join in with the very first challenge at Digitally "Sweet"....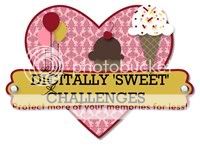 ......which is a nice easy one
ANYTHING GOES WITH MULTIPLE PHOTOS
Here is my inspiration for you............
As this is a new challenge I have added the rules here...
Challenges are simple .. as well as a challenge blog, this is also to inspire both digital users and non-digital users alike. Challenge yourself, go a little out of your creative zone and see what happens!!

Ok, so lets get to those rules
Challenges run Friday at 8am EST to the following Thursday at 9pm EST
Unless otherwise stated, we're going to be as digital as we can here .. card faces and layouts especially. Some challenges will deal with altered items, so just follow the challenge that week :)
Enter as often as you like!! The more inspiration, the better - UNLESS we have a sponsor, in which case, we ask for 1 entry per person.
No back linking please!
Please follow each challenge, especially if there is a sponsor - those not followed will not be entered in the prize draw.
When we have a sponsor, winners will be announced with the following challenge and you will have one week to claim your prize or a new winner will be chosen.
Must leave a direct link to your creation - not your blog.
The most important rule we have is .. HAVE FUN!! Get creative and show off your inner 'digi' diva!
OK guys over to you now.
Oh and before you leave don't forget to leave a comment to have a chance for a little candy.
I would like to enter the following challenges:-
Have fun