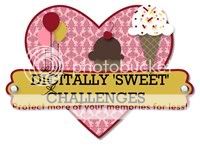 Hi everyone and welcome to the fourth challenge at
Digitally "Sweet" Challenges
but before I tell you what it is I would like to thank all those of you who played along with our layout challenge. I can't believe how fast the time is going.
Anyhow our challenge this week is.........
ANYTHING GOES WITH RIBBON
I would also like to remind everyone that this is a totally digital challenge - 100%.
Here is my inspiration for you using Craft Artist Professional 2 - yes I have succumbed!
We got these two little beauties from
The Cats Protection League
- they have taken a while to settle down but we are nearly ready to let them go out.
I have used the Daisy Trail kit
Furry Friends
.
I hope you have fun with what ever you do and don't forget to check out my teammates for some more inspiration - their links are on my left sidebar.
I would also like to enter the following challenges:-
Anything But A Card Challenge
- Always anything but a card,
Corrosive Challenge
- Animal Companions,
Come and Get It Challenge
- Anything other than a card,
Love To Create
- Anything Goes,
Creative Craft 2
- Anything Goes,
Crafty Sentiments
- Autumn Colours,
Stamp 'n' Doodle
- Anything Goes,
Inky Impressions Challenge
- Animals, and,
Fab 'n' Funky Challenge
- Starts with an F (Furry Friends and Fluffy).
Hugs