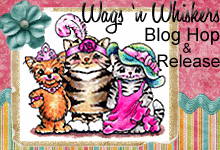 Hi everyone, just a quickie to tell about the new venture from Nikki Fairburn AKA Bunny Zoe, Lacey Stephens and Crissy Armstrong. They have teamed up to create a new stamp company.
You can visit the new site
here
. There is also a Blog Hop with the general release on the 9th October.
Have a look and join in the fun. There is also candy to be won and a Guest Deva Spot.